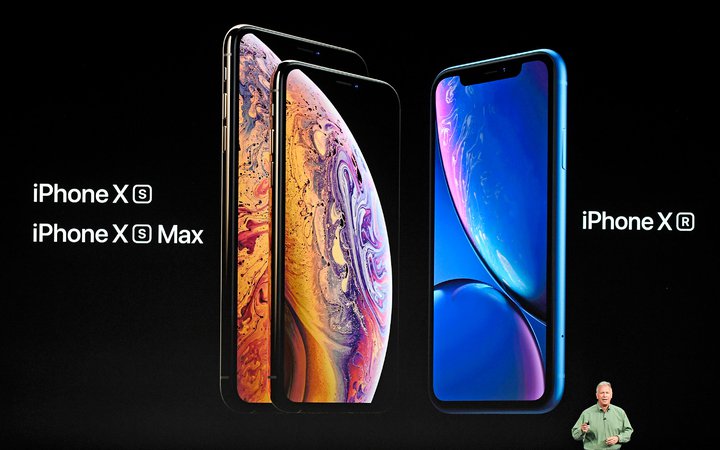 Apple Watch Series 4, iPhone Xs, iPhone Xs Max, and iPhone XR officially unveiled
Just like every year for the last couple of years, Apple unveiled the new iPhones in mid-September. The majority of rumors that had been floating around the Internet for quite some time ended up correct. The new flagships are called iPhone Xs and iPhone Xs Max. They are the most expensive, whilst the cheaper (budget) model is called iPhone Xr. Apple started the keynote with the Apple Watch; I will first write about the new iPhones. :-)
iPhone X
s

and iPhone X

s

Max

iPhone Xs features an OLED (or Super Retina HD, as Apple calls it) display with a diagonal size of 5.8 inches and a resolution of 2436 by 1125 pixels. Pixel density is approximately 458 pixels per inch. That's exactly the same resolution as on iPhone X released last year so no improvements in this regard. iPhone X was water-resistant with an IP67 rating; iPhone Xs and Xs Max have an IP68 certificate. Apple claims that the new iPhones can stay submerged in a 2-meters-deep water for up to 30 minutes. That's a slight improvement compared to iPhone X which could lie underwater at a depth of 1 meter only for up to 15 minutes.

At the keynote, Apple mentioned that the new iPhones were tested even in salt water and beer, but they didn't say what the final outcome was. However, on Apple's website it says that the new iPhones only "resist spills" from drinks like coffee, tea or juice. This is something we will have to find out ourselves when people around the Internet test it. :-) Of course, there are some new chips inside new iPhones.

All three iPhone models have the new A12 Bionic processor. It's an Apple-designed six-core processor. Apple claims it to be up to 15% faster than the previous generation (A11 Bionic) from iPhone X while also being more power-efficient: It should consume up to 50% less power than A11 Bionic. There is an improved GPU as well: It should have up to 50% better performance than A11 Bionic. It's been optimised for Metal 2. There's also an Apple-designed dedicated processor called Neural Engine. It's designed especially for artificial-intelligence-related tasks like pattern recognition and intelligent predictions in a way similar to the way people do it. Apple-designed Neural Engine has 8 cores and is claimed to be capable of running 5 trillion operations per second. It's said to be up to 9 times faster than A11 Bionic.

Apple demonstrated the core functionality of the new iPhones' neural engine on augmented reality applications and games. How it really performs in practice remains to be seen. Apple says that the great power of the new Neural Engine in A12 Bionic opens possibilities for new features not possible with the previous generation. The pricing for Xs and Xs Max starts at $999 and $1099 respectively. They come in three colors: gold, space gray, and silver; and three storage options: 64 GB, 256 GB, and 512 GB.
iPhone X
r
iPhone Xr is this year's budget iPhone model which should be compared to last year's iPhone 8 Plus. It's made of cheaper materials compared to iPhone Xs to lower the price of the end product. iPhone Xr features a display with the resolution of 1792 by 828 pixels at the pixel density of 326 pixels per inch. This is the same pixel density as in a regular iPhone 8, for example, but on a larger display. Since it's not a 1080p display, iPhone Xr is inferior to iPhone 8 Plus in this aspect.
Apple calls its new edge-to-edge LCD display a "Liquid Retina HD" display. The display follows the curvature of the phone on its edges. The word "liquid" from the name is probably inspired by liquid taking the shape of the container it's being poured into, just like the Liquid Retina HD display takes the exact shape of the phone body.
This iPhone has an aluminum frame and an IP67 water resistance rating (maximum depth of 1 meter for up to 30 minutes). It is still capable of wireless charging because of the glass on the back. It has the same processor as its "bigger brothers" Xs and Xs Max: A12 Bionic. The camera is a 12-megapixel single-lens wide-angle camera (no telephoto lens here). It has exactly the same features as Xs and Xs Max apart from the high-resolution OLED display with great contrast ratio, dual-lens camera, gigabit LTE chips (Xr's LTE chip is capable of transfering up to 600 Mbps of data), stainless-steel frame, and IP68 water resistance rating (Xr has IP67).
This might be a viable option for those who don't want / can't spend $1000+ for a mobile phone and don't mind getting an LCD display with slower networking, a single-lens camera without optical zoom, and don't need more than 256 GB of storage. They still get FaceID and everything else that comes with the TrueDepth camera. iPhone Xr comes in a wide variety of colors: (PRODUCT)RED, yellow, white, coral, black, and blue; and its pricing starts at $749.
Apple Watch Series 4
Apple also introduced the new Apple Watch that has some new hardware in it and a slight redesign because of the new display. The display is now larger and has slightly thinner bezels. The Digital Crown has now got a haptic feedback so the user feels click-like movements while rotating it.
It also has a built-in titanium electrode which enables the user to create an ECG with an Apple Watch. It works in combination with the new electrical heart sensor to detect changes in heart rhythm and possibly an atrial fibrillation. Another new interesting feature that comes with Apple Watch Series 4 is fall detection. This means that Apple Watch can detect if user has fallen and needs an assistance. It calls emergency services if it doesn't get response from the user within a certain period of time. There are also many new complications enabled by the bigger display. Users can have the most important data summarized on the home screen. The pricing starts at $399.